Hi
Just working through Kit 13, Cylinder fittings.
I have a question about the regulator set up. Ive followed the instructions and drawings but find the Regulator valve, doesn't seem to be attached to anything. once the square nut is through the Regulator Rod there is a bit of a gap which means the Reg valve will lift up under pressure. I have found a small spring in the kit (BU41133) which looks like it goes under the nut which has a small inset to receive it.
The spring is not mentioned in instructions nor shown on the drawings. It attach a couple of photo's.
Have i set this up correctly ??
Andy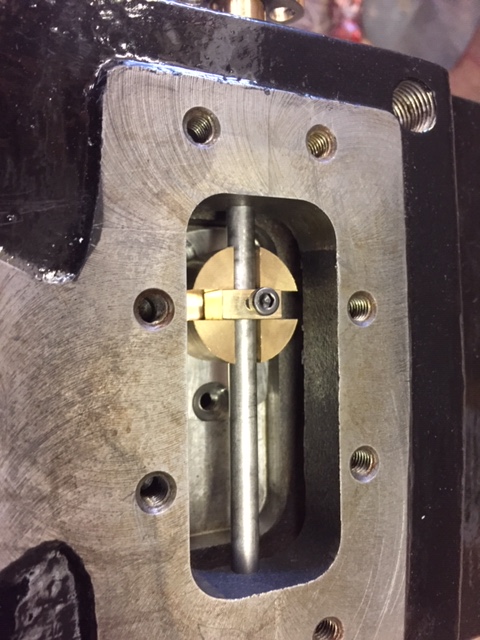 Hi

On my kit the small spring goes between the square block and regulator 'puck'. The steam comes up the channel on the right hand side of your photographs and will fill the void above the regulator and below the safety valve, hence the regulator will be held down by the steam pressure, not by the spring pressure. Just make sure you lap the regulator puck to the steel plate below to ensure a flat surface or steam tight seal.

On my regulator the puck and steel plate stick together and if I haven't used the engine for a time I need to remove the safety valve to free up the regulator puck.

I hope the above helps?

Simon



Number of posts

: 127


Age

: 53


Location

: Egremont, Cumbria


Registration date :

2014-01-07



Thanks Simon

reassuring that I've got it right!

Andy
Make sure the bolt in the square block doesn't stick up too high, or it will foul on the bottom of the safeties.



Number of posts

: 66


Age

: 63


Location

: dorset


Registration date :

2013-10-06



Hi Andy 

The spring does go between the nut and the puck, But as was stated by someone else, the steam pressure will also hold the puck down. Your assembly does appear to be correct from what I can see on your photos. I will need to add something to the instructions about the spring. 

Thanks 

Will@STW
_________________
If only we made a Marshall 




Number of posts

: 11


Age

: 21


Location

: Rugby


Registration date :

2019-01-29



It's best to use a stainless bolt & like said before make sure it doesn't stick up to high. STW used to supply a grub screw but it needs to be tight & grub screws have a habit of rounding off inside (especially with cheap allen keys). At least with a bolt one has something to grab hold of. Once you have determined the correct position I usually file a small flat on the spindle just to give the bolt a bit more to grip on.



Number of posts

: 751


Age

: 62


Location

: Illogan Redruth Cornwall


Registration date :

2008-06-29





Similar topics
---
Permissions in this forum:
You
cannot
reply to topics in this forum