Hi All,
We are pleased to let everyone know that as a forward thinking company we have invested in the future by purchasing a new CNC machine from HAAS.
The lathe we have purchased is the very newest in technology with full driven tooling and a 'C' Axis meaning that the majority of turned jobs will no longer need secondary operations on a milling machine.
The machine also comes with the very latest servo barfeeder capable of barfeeding up to 3" diameter bar. This reduces the need for additional staff as well as minimising the loading down time, therefore meaning production has the capability of conitinuing 'lights out' if needed.
This machine will massively increase our production capability when it is delivered around October time.
Below are a couple of pictures and some technical data for anyone interested.
Regards
Dean & Steve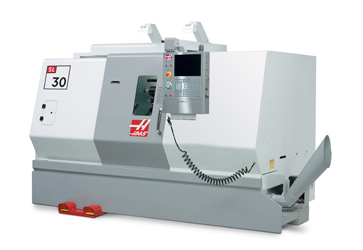 The SL-30, with a max turning capacity of 432 x 864 mm and an 254 mm chuck, has a bar capacity of up to 76mm. Haas high-performance turning centres also feature massive headstock castings with symmetric ribs for rigidity and thermal stability; on-the-fly wye-delta switching for peak performance throughout the rpm range; and embedded chip trays and high-volume coolant systems for efficient chip removal.
A host of high-productivity options, such as a tool presetter, parts catcher, chip auger and tailstock, are available for the SL-30 to further boost productivity, and the Haas Servo Bar 300 bar feeder may be added for unattended operation.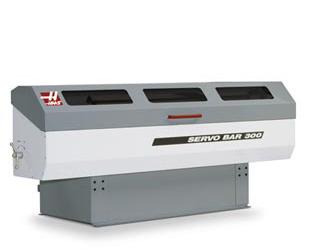 The all-new Haas barfeed features a heavy-duty yet compact design, with up to 79 mm bar capacity and a footprint of only 4.5' x 8'. Designed to boost productivity and streamline turning operations, this servo-driven bar feeder is built by Haas exclusively for Haas CNC lathes.
It runs directly from the Haas control, making it the only "smart" bar feeder on the market. Unique features make setup and operation simple, like a large access door for spindle liner change-out, and a single adjustment for setting bar diameter. All bar feed parameters are set at the lathe control.
SL30 Technical Data
SWING DIAMETER
Over Front Apron 30.0 " 762 mm
Over Cross Slide 14.5 " 368 mm
CAPACITIES
Chuck Size 10.0 " 254 mm
Max Cutting Diameter 17.0 " 432 mm
Max Cutting Length 34.0 " 864 mm
Max Cutting Length w/Std Workholding 32.0 " 813 mm
Bar Capacity 3.0 " 76 mm
Between Centers 39.0 " 991 mm
TRAVELS & FEEDRATES
X Axis 11.30 " 287.0 mm
Z Axis 34.00 " 863.6 mm
Rapids on X 710 in/min 18 m/min
Rapids on Z 710 in/min 18 m/min
Max Thrust X 3400 lb 15124 N
Max Thrust Z 5400 lb 24020 N
SPINDLE
Spindle Nose A2-6
Max Rating 30 hp 22 kW
Max Speed 3400 rpm 3400 rpm
Max Torque 300 ft-lb @ 700 rpm 407 Nm @ 700 rpm
Max Torque w/opt Gearbox 850 ft-lb @ 250 rpm 1152 Nm @ 250 rpm
Spindle Bore ø 3.50 " 88.9 mm
Draw Tube Bore ø 3.03 " 77.0 mm
TURRET
Number of Tools 12
OD vs ID Tools Any combination
Tool Size (OD turning) 1.0 " 25 mm
Index Time (one tool) 1 sec 1 sec
Boring Bar Rear Clearance (from turret face) 4.50 " 114.3 mm
LIVE TOOLING
Max Rating 5 hp 3.7 kW
Max Speed 3000 rpm 3000 rpm
Max Torque 132 in-lb 14.9 Nm
Drive Ratio 1:1
Brake Clamp Force 1000 lb 4448 N
Brake Diameter 13.25 " 336.6 mm
Tooling Standard VDI 40 Standard VDI 40
ACCURACY
Positioning (±) 0.0002 " 0.005 mm
Repeatability 0.0001 " 0.003 mm
Steve/Dean

Great news, looks a smashing machine so you'll be able to make the bits for my new Foden "J" type even quicker, seriously guys this is a milestone in the future of STW and I see no reason why there wont be many many more.

Ian



Number of posts

: 375


Age

: 108


Location

: Isle of Wight (2" Burrell & 5" Duchess ex MW)


Registration date :

2008-06-18



Thanks Ian,

It's a big step but one Steve and I are sure will reap rewards long term. A machine making bits, that come off complete, without the need for one of us to be there sounds like heaven to me.

Anyway i've added a video of a similar Haas lathe that has a C Drive and Live tooling for those not familiar with what they can do. Only difference is we chose not to go for a sub spindle as the small batch quatities we manufacture did not make it cost effective.

Dean


WOW

thats some piece of kit



Number of posts

: 134


Age

: 51


Location

: Truro,Cornwall. (2" Burrell)


Registration date :

2008-06-17



Dean/Steve
That is one amazing peice of kit is it programable from the office or even the pub. (beers only after the first one is correct). That machine will make life alot easier.

Keith



Number of posts

: 97


Location

: Bedford (Burrell 4" 2nd batch)


Registration date :

2008-06-26



Hi guys
NICE


BUt will this mean that I may at some point come in and do a days work .
As I gess by now you have had some others to do a days work?????



Number of posts

: 575


Age

: 48


Location

: hertfordshire


Registration date :

2009-03-13



Dean,

Did you get it yet or have you delayed delivery penting finding a new factory.

Ian



Number of posts

: 375


Age

: 108


Location

: Isle of Wight (2" Burrell & 5" Duchess ex MW)


Registration date :

2008-06-18



Hi Ian,
We have delayed delivery until we know what we are doing with the premises situation. The new machine was originally ordered to fit in the new factory, which fell through, so it'll have to wait while the search continues.

Dean
Dean,

I guessed as much, still it will be nice to see the thing in action when you do find a new home for STW, lets hope you manage to fine a suitable place soon.

Ian



Number of posts

: 375


Age

: 108


Location

: Isle of Wight (2" Burrell & 5" Duchess ex MW)


Registration date :

2008-06-18



Hi guys
Like it good luck with it






Number of posts

: 575


Age

: 48


Location

: hertfordshire


Registration date :

2009-03-13





Similar topics
---
Permissions in this forum:
You
cannot
reply to topics in this forum