As it is a bit quiet here at the moment i thought I post a couple of pictures of another project in working on.
Its a Clayton steam wagon 2" scale.
Been making it for the last two years.
Hoping to have it in steam this year (fingers crossed).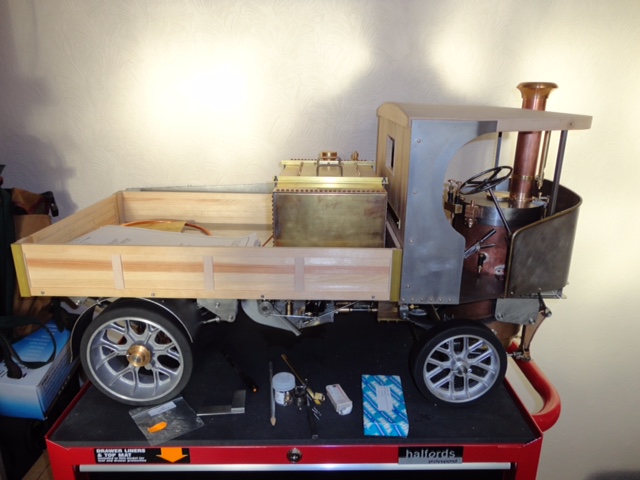 This shows the superheater.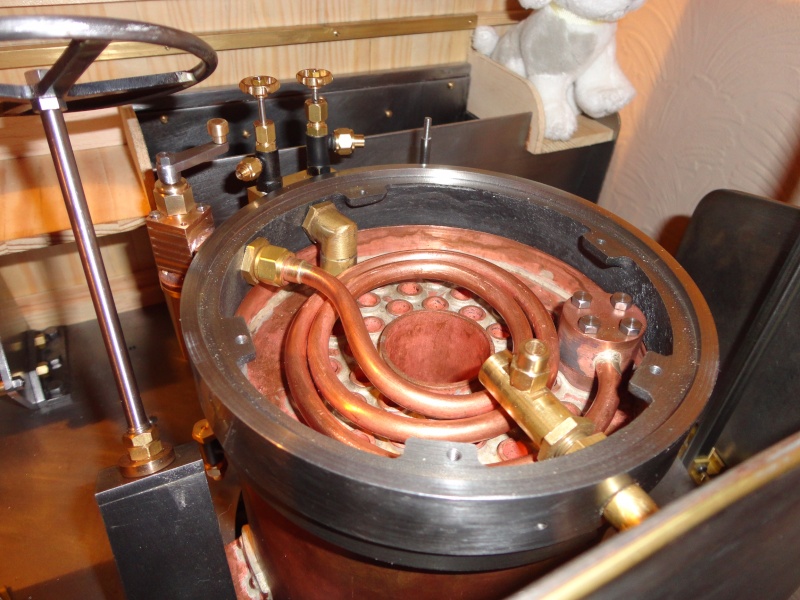 These are old pictures as the wagon has advanced a little more, pipe work added a handle for the bypass value and it now has a water heater fitted taking the dead steam from the engine and heating the water before it go's into the boiler.
Hope you enjoy.
Phil.
Hi Phil,
Thats very interesting. Although i am only in the early stages of my 2" Burrell, i will in no doubt be looking for another 2" project when this is finished. Unless STW come up wiyh a new creation i will be stumpef. Is your Clayton being constructed from a kit, or is it your own project?
Regards
Mike



Number of posts

: 309


Age

: 70


Location

: Hereford


Registration date :

2014-09-04



Hi Mike.
I wish it was a kit would have been a lot easier to make.
No, i brought the plans and casting, machined them and made the rest (Lots of time spent in the garage).

Phil.
Nice one Phil looks good very fiddle but a lot easier to move, pulled my foden out of the garage with the van this week and then couldn't push it back in, now the drive chain is on its all got very heavy




Number of posts

: 188


Location

: bognor regis


Registration date :

2011-07-31






Number of posts

: 410


Location

: Hertfordshire 4 inch; DCC road loco


Registration date :

2011-01-27



Thats excellent. I have to stick to kits. I am mechancally astute, when it comes to repairs/assembly etc. I took the wrong route a few years ago from mechanic to photographer, which i am semi retired. Hence the interest. I would definately take an another kit, but have not got the logistics for a 4inch. Lets hope STW bring out another 2inch. Anyway, excellent job
Regards
Mike



Number of posts

: 309


Age

: 70


Location

: Hereford


Registration date :

2014-09-04



Big day today, tested the boiler (the Clayton steam wagon).
As per normal, thing did not go as planned? 😱 
They was a leak in the fire box, a small blow hole in the silver solder joint around one of the tubes (35 tubes plus the stoking tube). Heart stopping moment, so a swallowed a massive brave pill and refluxed and resoldered the inside of the fire box.
Well gave it 30 minutes to cool down, resealed all the holes and pressure tested it again. 50 psi first then up to 100 all still fine and dry, then up to 150 for 10 minutes and up to the full 200psi for half an hour.
The brave pill worked, the boiler passed the home test. 

Just need to clean it up in citric acid (lemon juice from the wine making shop) and I can start putting it Back together again. Plus, put some coal in her and light the fire.
I'll have to think twice about making another boiler, I don't think my nerves can take it again.
Should have taken up stamp collecting?
Phil.  

:D:D
brilliant news well done great achievment




Number of posts

: 188


Location

: bognor regis


Registration date :

2011-07-31





Similar topics
---
Permissions in this forum:
You
cannot
reply to topics in this forum