Page 2 of 2 •

1, 2

On the Saturday night at GDSF the showman's all lined up at the top of the playpen:  eight in a row looked pretty impressive.  Not a very good photo I'm afraid.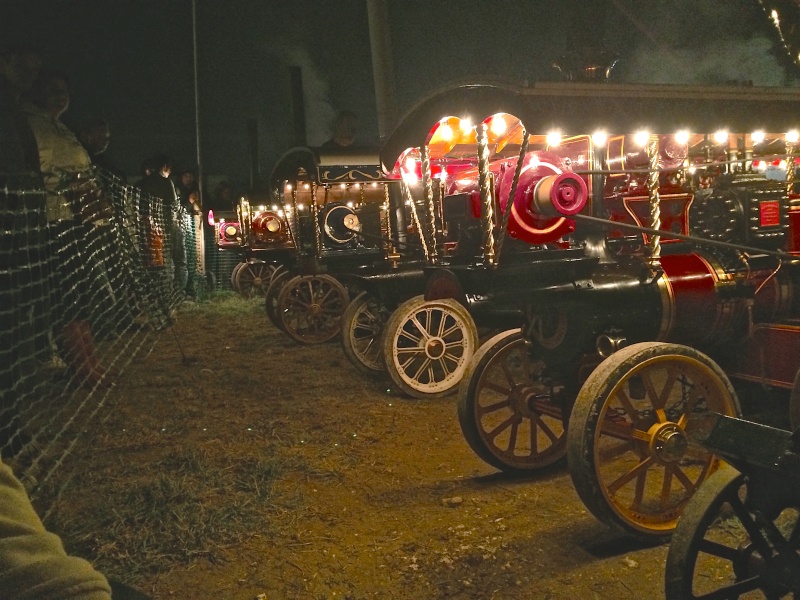 Frederick really works well on the dynamo.  The pressure gauge needle is glued to 170PSI, the pump is just cracked open, occasional lump of coal and control the rest by the damper and regulator.
Max is also pretty good at keeping things under control:
Tim



Number of posts

: 575


Location

: Herts


Registration date :

2008-07-02



Hi fellow builders and others interested .have now ticked off GDSF from the bucket list.Not with standing the mud had a great day.I'm sure everyone who participated had their patience tested.being able to put some names to faces and see their engines was a huge dose of encouragement for this builder from down under. A big thank you to tim (and of course max who posed beautifully for the obligatory photo) for making this kiwi so welcome.the bacon butty with hot coffee to wash it down produced from Tims mobile coal fired kitchen will be a fond memory for this builder . It was good to meet Andy and see his engine in the flesh. What a wonderful job he has made. As said above the photos of his engine don't do it justice.also met colin and had a good look at his showmans engine Lady of the lake . Whilst not subject to a build thread this engine looks (and feels) magnificent .i also had the obligatory beer with dean and the two Steves at the STW stand whilst she who must be obeyed found the only patch of green grass at Dorset to sit on and read the paperWas around the corner. good to catch up and meet Steve T who has made an excellent job building Steves engine. I am currently travelling through Europe and can't wait to return home in 6 weeks to compete my engine.Cheers Shane.



Number of posts

: 142


Location

: Mount Maunganui New Zealand


Registration date :

2013-07-27



Hi Shane

What day off you visit as I did not see you at the Steam Yachts, maybe it was my afternoon off.





Number of posts

: 934


Location

: Mellor, Lancashire


Registration date :

2010-09-07



Sorry I missed you Brian I did call in but was told you had the day off.im sure our paths will cross in the future. Cheers Shane.



Number of posts

: 142


Location

: Mount Maunganui New Zealand


Registration date :

2013-07-27



Sorry I missed Shane, the other driver and I arranged alternate afternoons off to allow us to have a look around and catch up with people. I hope you had a ride though. Looking forward to seeing your engine finished though.



Number of posts

: 934


Location

: Mellor, Lancashire


Registration date :

2010-09-07



After a two day journey I finely arrived home on last Tuesday. This was my first outing to the GDSF with my own engine. I knew I could expect  mud when it starts raining on Monday as I was in Dorset two years ago.  On Wednesday  I drove a little bit around on the miniature camping field as I didn't come to England to sit down and watch the rain falling. Thursday afternoon  we start diving the garden path, which I really enjoy.   And so we did on the rest off the show, I went up and down hill several times on Saturday towing one of my trailers. Dean aspect me to blow the fusible as I am not used to steep hills in the Netherlands, but sorry for him it don't happened. Andy gave me the opportunity to drive a little on his road loco so I could feel the difference between an agriculture and a compound engine. It was great fun to me driving in the Dorset show and I 'm sure this wasn't my last time as exhibitor up there.



Number of posts

: 44


Location

: Lutjegast, the Netherlands


Registration date :

2010-10-26



Hi Alex,
It was good to see you again, your engine must be one of the hardest working engines we have ever sold and i'm guessing must have covered the most miles. Well done on not blowing the plug.


Regards
Dean



Number of posts

: 916


Location

: Daventry UK


Registration date :

2008-06-18



Page 2 of 2 •

1, 2


Similar topics
---
Permissions in this forum:
You
cannot
reply to topics in this forum