Hiya people, well as you're most probably aware, I crumbled under pressure ( I suspect there was more in that cup of tea than tea, sugar and milk...hmmmmmmmm ). Nope only kidding, was good to see the set up at STW, first impressions last and mine was that it was a good set up all round with a very determined driving force towards customer relations (you can quote me on that). So, here I am sat looking at me front wheels and I've a question (NO, NOT HOW DOES IT GO TOGETHER!!!), Anyone know of a decently priced company regards to having the wheels vulcanised??
Cheers
LilyJack


Hi LilyJack

You can get your front and rear wheels fitted with vulcanised rubber tyres through us. Be warned though, it is not cheap. In addition, the wheels come back in a bit of a state. The vulcanising is done in a steam enclave, so everything thats bright and shinny comes back dark, rusty and dingy. You can get them shot blasted, but that adds more cost. I'll get some up to date prices and put them on the forum.

We did look at offering this facility several months ago, but concluded it was too expensive. The 2" Burrell should be a bit easier on its rear tyres than the 4" version (I might live to regret saying that!) after all, there won't be the weight of someone sitting on the tender and it's possible to exert far more stretch on the tyres than is possible with the 4" version. There are a few example of the 4" Burrell which still have the 'stuck on tyres' with no signs of them coming off, and I can't remember anyone having any problems with the front wheels.

I'll publish the prices so you can decide.

Regards

Steve



Number of posts

: 833


Location

: Daventry UK


Registration date:

2008-06-18



Muchos Gratsias Senior...

Just a quicky whilst I remember, the oil caps on the front hubs are threaded. Well, one is and one isn't. I'm not too fussed about this to be honest as the build can still be progressed without problem but make a personal note and we'll sort it out when I pick up Kit 2 if thats ok?

Now I believe its time for a beer..

Best regards

LilyJack
HI LILYJACK, BEST YOU FINISH THOSE BEERS UP, AND DON'T GET ANYMORE !! YOU WON'T HAVE TIME TO DRINK THEM NOW !!!!!!!!!!!!!

WELCOME TO THE CLAN
BUNGLE



Number of posts

: 232


Age

: 56


Location

: HERTS (2" BURRELL)


Registration date:

2008-06-17



HA quite right the Bungle n cheers for the welcome chap. Going to have to rattle my bosses head for some overtime so I can "steam ahead"<< (Comedy moment there,, please laugh...) with the build. If it's okay to glue the rubber on then instead of posh vulcanising, I gather then that yourselves ( STW ) might be able to help with sourcing the rubber required for me pleassssssssssssssssse..

Regards

LilyJack
HI LILYJACK,
WHEN YOU GET TO THE TYRES STW WILL SUPPLY YOU WITH CORRECT PRIMER AND ADHESIVE FOR THE JOB.
BEWARE, SAVE THOSE OLD CLOTHS, IT CAN BE A LITTLE MESSY !

BUNGLE



Number of posts

: 232


Age

: 56


Location

: HERTS (2" BURRELL)


Registration date:

2008-06-17



Hi yes I had some probs on this .In the end I took them back in and it now is all fixed .
Some pics for you .HO yes as for old cloths good thing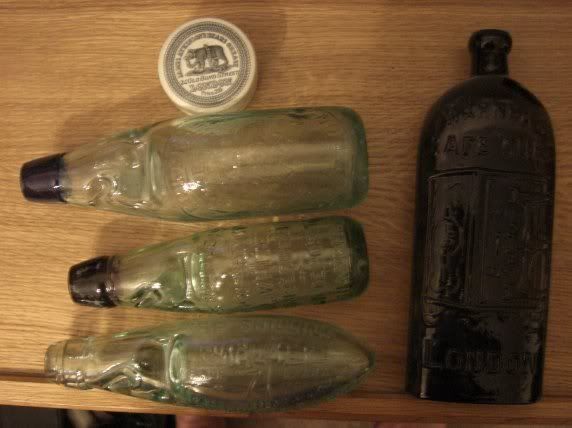 But it did come apart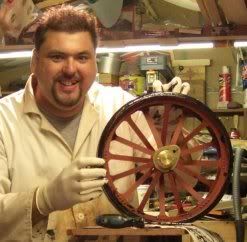 It did not help that I was gigging as well .
GOOD LUCK



Number of posts

: 575


Age

: 44


Location

: hertfordshire


Registration date:

2009-03-13



If your rubber glue goes hard like mine did you can get it from B@Q it's called Isoflex primer and Isoflex rubber and is used for sealing roof tops..

again there is prob nothing to worry about the engine will be fine with them glued on it's not as heavy as a four inch version and you have to remember that they sit on they models so i'm not suprised that some people have had tires coming off...

you can use a dremal to rough up the inside of the tires to get a good stick.

som bits on my site might help. www.burrellbuilder.com sorry i havent updated in a long time but I have documeted the front wheels and frst few kits.. I hope to update it all very soon..



Number of posts

: 195


Location

: edinburgh


Registration date:

2008-10-15



NorthBurrell,
Thanks for that chap, easily enough stuff to obtain that is, I do like words like B&Q etc

Best Regards,
LilyJack
Front wheels now assembled, awaiting epoxy resin to harden before a final rub down and undercoat application.
Steve and Dean, I'm gonna kick your backsides ( kidding obviously ) for a) having 1 rivet nut over and b) having a small bag of M3 nuts n bolts in there which shouldn't have been.
There I am scratching my head thinking well where the hell do these go then

and HOW MANY TIMES did I check to make sure all my rivetbolts had nuts on them!!! Mind you, it made damn sure that I checked everything was as it should be hehe....
Hopefully catch you soon
Best regards
LilyJack
Hi Lilyjack.

I wouldn't paint your wheels until you get the tyre kit and there fitted. the Isoflex rubber will ruin your paint job. just a head up on that..

The small bag of bolts were for using before the rivet bolts. kind of like trial fit bolts.. I too found I didnt need them. but they do come in handy in later kits if you need any spare nuts and bolts..

Not sure if you have seen this site. Julia's four inch version build. this will give you an insight of what to come kit wise. it's not spot with the 2" version but is a great web site to to look at. www.burrellbuilder.co.uk scroll down to start here section...

Jo



Number of posts

: 195


Location

: edinburgh


Registration date:

2008-10-15



Hi NorthBurrell,
Thanks for the heads up on that one mate, I had my "wanna get on with it" head on and didn't even think of potential mess caused from tyre fitting..
And thanks also for the link, have already been having a butchers at that site and yup, it's well documented with do's and dont's.
Here's soldiering on eh

Best regards
LilyJack
---
Permissions in this forum:
You
cannot
reply to topics in this forum