Just completed for delivery this weekend a comissioned 25 note hand turned busker. At the new owners request just left white for him to decorate a bellows driven 25 note ( 37 pipe ) organ. Uses a new LiPo battery giving 4 Kg less and much better battery life and storage. New style of pipe in this one which give a much purer tone ( to my ear anyway! ) bit more work to make but give a better finished look too. Has a crank sensor too meaning it doesnt start unless turning and stops when the crank stops.

Next project is going to be a 31 note scale busker which uses all the notes for music rather than some for register commands so will have a more colourful sound in an very similar size, also found a local company who can CNC route the front panel allowing for much greater accuracy and design detail. Watch this space!!





Number of posts

: 1096


Age

: 51


Location

: West Sussex, 4" DCC Road Loco


Registration date :

2008-06-18



Hey Kevin

Any news and photos/videos of the organ you made for the 3" gallopers built by the Stearnes??

Brian
I've a video of it somewhere sounds and looks great, (not the video this was taken on the camera when I didn't know how to use it). If no others I'll post.



Number of posts

: 1058


Age

: 44


Location

: Chandlers Ford Hants 4" showmans & 4" Roller


Registration date :

2010-11-26



Thank Rob that would be great. If I ever get myself that far down south I must ensure I time it with an event where it will be out on display - take note Kev.
This is it just before it was delivered, I havent got any of it installed. They do take it out a lot and it plays regularly at most events, they were at Porstmouth Docks with me in December and we took it it turns to play between my showmans model and theirs.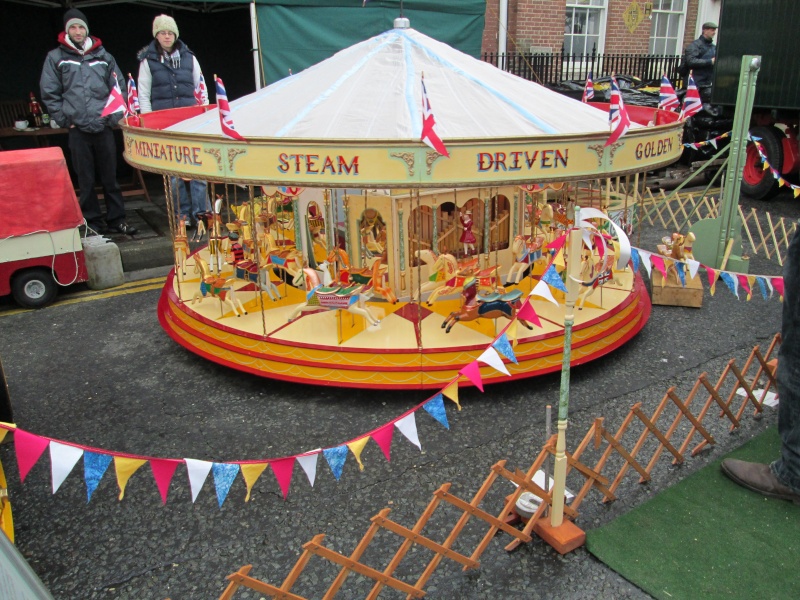 This is the gallopers set up and is quite a wonderful creation, each horse is made of several laminates which are then sculpted by hand, the whole thing breaks down exactly like a full size into two or three authentic trailers. It has taken literally years to make and is quite simply exquisite.
This was the organ just after they installed in to the wagon, the lady rotates with a motor that takes its connections from a butchered light fitting so she can be removed for storage/transport, very clever. They brought this to the Littlehampton Bonfire Night parade and towed it behind the engine playing for the whole evening!!! A testament to the quality of the solenoids I used as it had no problems with this at all.
Orders still gladly taken for most sizes of machines, still be ready for the new season at this point in time!!!!



Number of posts

: 1096


Age

: 51


Location

: West Sussex, 4" DCC Road Loco


Registration date :

2008-06-18



Fantastic, I look forward to hopefully seeing Rob's video of it playing in the ride too. Is the Meerkat Centaur on the ride too? Elaine Massey made one for it and showed it to me a year or so ago.

4" scale Ark/Waltzer anyone???
I apologies for the poor quality as this was taken on the then new camera and I didn't know how the video function worked so was really just playing with it and reading the instructions.  However I hope it gives you some idea of the fantastic quality of both the organ and gallopers.  This is also the first time I have uploaded to you tube so the wheels are bound to come off.  The first clip is very short







Number of posts

: 1058


Age

: 44


Location

: Chandlers Ford Hants 4" showmans & 4" Roller


Registration date :

2010-11-26





Similar topics
---
Permissions in this forum:
You
cannot
reply to topics in this forum