Hi All,
Does anyone have a picture of the regulator quadrant with the slots for the reversing lever cut?
With the latest batch of engines they have left it for the builder to cut them rather than building an adjustment mechanism into the rod. The pictures in the instructions show 3 forward. 3 reverse and 1 middle slot - however - in full reverse my lever only goes back to just past half way, ie no where near enough room to cut all those slots

Any pictures, help much appreciated.
Cheers Andrew



Number of posts

: 18


Location

: Auckland, New Zealand.


Registration date :

2011-08-15



My picture thread shows the quadrant. For reverse you only need 1 slot. Full. As you are not often sitting in reverse.



Number of posts

: 2957


Age

: 50


Location

: Highland, 4inch showman


Registration date :

2010-08-06



Hi Andrew,
As Lynn points out, you don't really need three slots for reverse, however, I've done two on mine, so I can notch it back a bit to save on steam!!
Here's a pic showing my quadrants & as you have observed the notches are near the front, but you will also observe the reversing lever is to the rear of all the notches, so needs the "extended" quadrant to slide in!! :-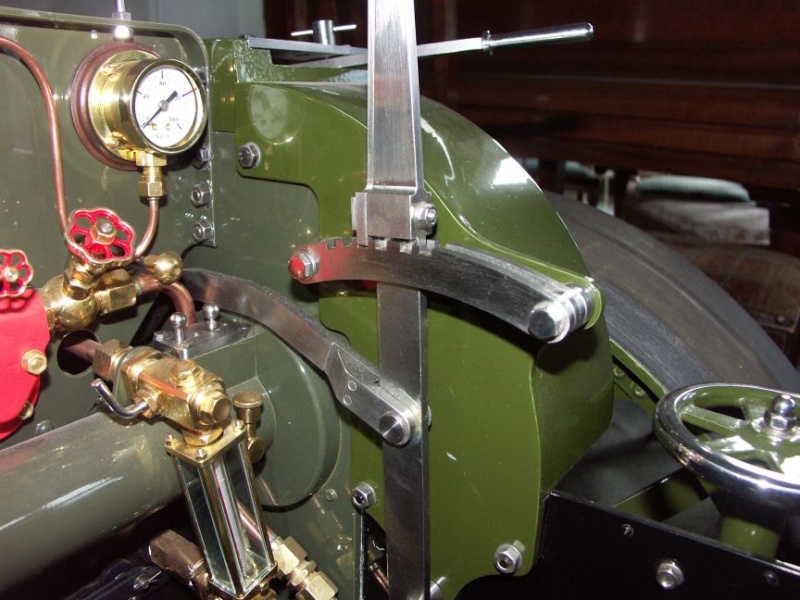 Hope this helps,
Regards,
Tony



Number of posts

: 856


Age

: 62


Location

: scotland


Registration date :

2008-10-31



Many thanks, will go ahead and cut the slots today.



Number of posts

: 18


Location

: Auckland, New Zealand.


Registration date :

2011-08-15



Andrew

I would suggest not cutting the slots until you are in steam as the furthest position cannot be to far forward or back as the valve gear can be overstressed if it is set to far forward or backwards. the easiest way is to run the engine without the slots but slide in a small flat screwdriver at the end of the travel and slide it up and down as the engine runs to find the point just before the valve gear starts to make the reversing lever jump. If you had the slot filed here then locking the reversing lever by the slot in this position will mean the valve gear components will try to bend/break. You will see what I mean during holding it by hand.

There is a post possibly on the DCC Road Loco thread about this, I think HIGHRESSURE put it on after he had gained advice from Julia on here about this.



Number of posts

: 934


Location

: Mellor, Lancashire


Registration date :

2010-09-07



Yes totally agree with Brian here, I have already replaced my die blocks as I set the lever furthest forward and stressed it all out and pulled it too much. I have since taken the quadrant off, welded the old slots up and recut them in situ. As Brian says best done in steam and then mark the slots and take off to cut.



Number of posts

: 1096


Age

: 51


Location

: West Sussex, 4" DCC Road Loco


Registration date :

2008-06-18





Similar topics
---
Permissions in this forum:
You
cannot
reply to topics in this forum