Hi all,
pretty lousy photo but says it all really. Super rally, and great to receive a trophy. I believe mine was the only kit built engine at the show and there were around 20 miniatures in the show.
A real credit to all at Steve, Dean, Isobel and all the team. Even Mr Loader rocked up and said how nice the engine was!
I did not experience ANY negative comments from anyone at all because it was kit built. The support for what is being done by STW was quite refreshing to me. Many people follow the forum and consider buying but do worry a little about what happened in a previous life, and that they have no experience. When I told them this was the first new big engine since the inception of STW and it was my first ever build of anything like this, it made them think again.
I spent most of the weekend in top gear and it makes a lovely bark when going uphill past the beer tent! If anyone is close enough, it's worth a look as it is very informal and you can go wherever you like on the field. Normally there is a road run to the pub on Saturday night but the road had been comprehensively dug up and it would have been quite dangerous trying to avoid all the manhole covers sticking up 3 inches above the road!
Well done guys for building such a great engine.!



Number of posts

: 268


Location

: canterbury, Kent


Registration date :

2010-02-19



And one with the roof on. Made for difficult driving but it is doeable.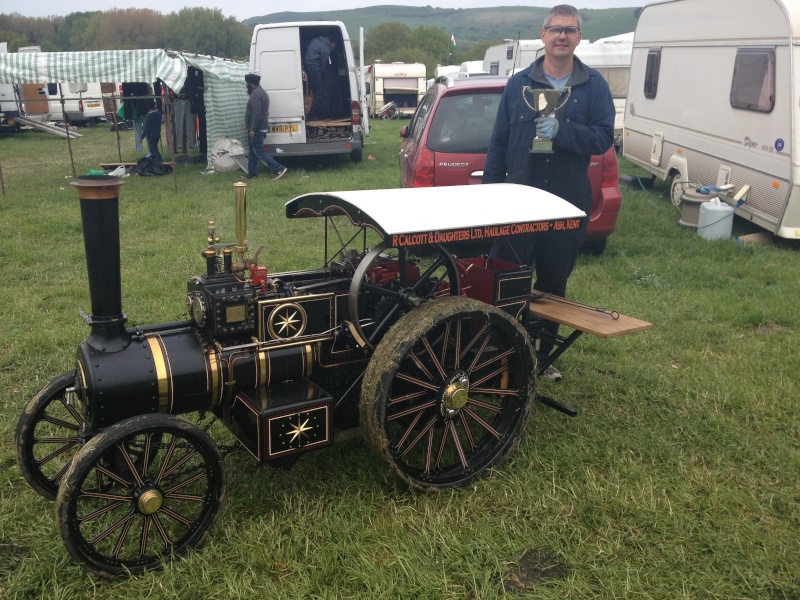 Number of posts

: 268


Location

: canterbury, Kent


Registration date :

2010-02-19



Well done indeed.

That's quite a whistle you have there - where is it from?

Best wishes
Simon



Number of posts

: 314


Location

: Malmesbury


Registration date :

2011-04-26



Well done Rick and first time I think we have seen a photo of your engine finished if I am not mistaken. Looks like you had the English summer down in Dorset too.

One question, how did you fair with regard to the mud and grass build up on your wheels - on our engines the 1st gear pinion is close to the tyre but I notice with your spoked flywheel it's hub does not look like it overhangs the LH tyre.

Jealously yours

Brian



Number of posts

: 934


Location

: Mellor, Lancashire


Registration date :

2010-09-07



Woooooooooooohooooooooooooooo

To all the doubters.............hahahahahaha

To everyone who said.....Anyone who bought a Road Loco or Showman's was a fool cos we wouldn't be in business that long............hahahahaha

To those who constantly say we're going out of business or have gone bust.........In your face!!

And finally to those of you who had faith in Steve and I.................

THANK YOU.........Without you and your faith it wouldn't have been possible to get it off the ground.

We love each and every one of you (even if some are a bigger pain in the a**ses than others) and class many of you as our friends as well as our customers..........

The feeling of pride i currently have brings a lump to my throat so well done on such an amazing job.

Congrats Rick and I hope you and your engine are just one award of many many more to come.

All the best

Dean





Number of posts

: 916


Location

: Daventry UK


Registration date :

2008-06-18



Well said Dean.
I personally think that all the detractors and other malicious scaremongers should firstly eat humble pie, and secondly put pen to paper and publicly apologise in writing, in particular to Steve for denigrating his designs, and of course to the rest of the STW staff who all work their butts off producing a fabulous product.

I look forward to receiving my Road loco, traction wagon, and bowser kits when I return to New Zealand and will take every opportunity not only to promote your products but also your professionalism and customer care. Maybe one day we will have enough STW products down under to be able to have a "Down Under STW Gathering" Keep up the bloody good work and thanks for the coffee and chat yesterday.




Number of posts

: 131


Age

: 62


Location

: Tauranga New Zealand


Registration date :

2011-10-25



I must get Shane in NZ to contribute to the forum



Number of posts

: 131


Age

: 62


Location

: Tauranga New Zealand


Registration date :

2011-10-25



I am very new here so don't know to what you refer re bad mouthing. Surely you just ignore anyone who says things like that. You guys who can build your own engines i hold in very esteem, i wish I could have the skills but I don't.

I have just bought a completed engine I dont know if it is an STW kit what I do know is that one of those two guys emailed me and made me feel very welcome on this forum. To me that says it all genuine type people so dont take any notice if everything had had to be built from drawings ( i guess this is some people gripe although only guessing ) then there would not be so many people around and hence not so many engines people to talk with etc etc.

Its a sad world I dont have time for it.

Good luck and sorry nearly forgot what a great engine you lucky lucky lad!!

Richard





Number of posts

: 15


Age

: 64


Location

: kings lynn norfolk


Registration date :

2013-05-06




---
Permissions in this forum:
You
cannot
reply to topics in this forum